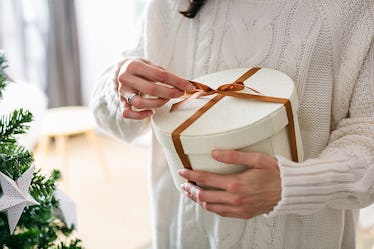 10 Gifts To Buy Yourself This Christmas, Because You Know You've Had Your Eye On A Few Things
Just because people say it's better to give than to receive, doesn't mean you have to play martyr and deny the fact that when you wake up on Christmas morning to presents under the tree, you're pretty damn excited to rip off the wrapping and see how your loved ones chose to spoil you this year. You work hard, and probably don't play as hard as you deserve, so it's not a crime to scope out gifts to buy yourself for Christmas. Trust me, friends, you've earned it.
And don't you dare think, even for the tiniest of milliseconds, that splurging on yourself is in any way selfish. Think of it this way, OK? Gift exchanges are wonderful, and I'm sure you're very appreciative of any present a friend or loved one goes out of the way to give you. But, unless you make a detailed wishlist or Pinterest board and send them out for reference every year, I'm willing to bet you don't receive everything you want.
If you a) have the funds and b) are constantly adding and deleting a specific item from your digital shopping cart, allow yourself the luxury this holiday season and treat yourself. Here are a few special gifts to buy yourself for Christmas this year, because you deserve a little TLC and spoiling, too.