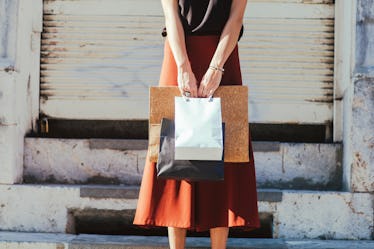 7 Best Gifts To Buy On Black Friday If You're Braving The Crowds This Year
There are two kinds of Black Friday shoppers, all of whom are geniuses, in my opinion. The ones who make lists of marked-down, splurge-worthy items they've been eyeing for themselves almost always emerge from the shops with a steal, while those who bank on thrifty purchases to save money on presents for others make loved ones happy and save a decent sum of cash. But this national day of discounts just isn't what it used to be, and you really have to do your research if you want to nail down the best gifts to buy on Black Friday, otherwise you might end up spending more than you have to.
Black Friday often gets a bad rap, and this year, it's not because stores are expecting rowdy crowds. Black Friday has expanded into a duration of weeks-long deals, and the Friday after Thanksgiving is just one of many opportunities to save bigger and better. Between early deals stretching from Monday through Wednesday, and Cyber Monday being its own huge thing, shoppers are contemplating whether or not it's actually worth waking up early and braving brick-and-mortars for underwhelming markdowns.
Listen, I may not be an expert bargain-shopper, but if I've learned anything from my thrifty friends, it's that you have to shop around before committing to a purchase. Price-checking isn't just research, it's a skill, and you should never, ever accept a first offer before comparing markdowns across multiple retailers first. That being said, rumor has it that Black Friday 2017 is serving up some awesome steals if you're looking to save money on gifts. Check out the list below to save time (and cash).