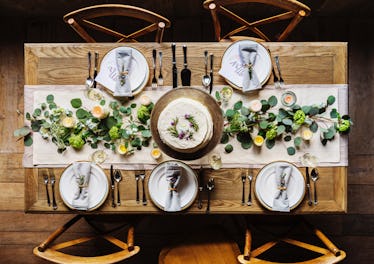 10 Funny Thanksgiving Memes That Truly Capture All Of Our Feels For The Holiday
Once Nov. 1 hits, many of us embrace those holiday feels like it's our job. We anticipate the countdown to Thanksgiving with smiles on our faces, because we look forward to the family time, the amazing food, and being blessed with a much-needed break from school. And as much as there's room for some political arguments and bickering in the kitchen on Thanksgiving, there's a whole lot of good that comes out of this amazing holiday. That's what makes funny Thanksgiving memes that have graced the internet truly speak to our souls.
From reuniting with your hometown crew, to your aunt showing up to the Thanksgiving festivities rocking an ugly Christmas sweater, Thanksgiving memes have it all, and most of the time, they're too good not to share. In fact, Twitter throughout the holiday season is at its true prime. Every other tweet is so funny it actually hurts. As a holiday blessing to you, I've put together some of the best ones. Go ahead and add it to the things you're grateful for, I'll wait.
So this Thanksgiving, gather round, kiddos. I have a story to share, or rather, a few stories — the stories of Thanksgivings come and gone (and the ones that are surely to be in our near future). So get tagging, because these 10 hilarious Thanksgiving memes are way too on point. You're welcome.