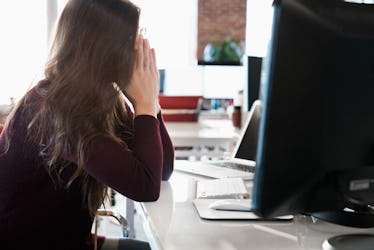 Eat Any Of These 10 Foods If You Really Need To Concentrate & Get Stuff Done
What's your definition of a "study break?" I know myself, and when I need to take a step back from a task, the first place I roam to is the kitchen, as if a handful of rice cereal or, OK, maybe an Oreo or two, is going to spark my creativity and help me bang out the last bit of my work. Now, I know damn well I am not the only person who leans on food when their brain's foggy or just plain bored, but there really are foods that help you concentrate when you're in a rut. (Hint: They, unfortunately, do not include a scoop of Ben & Jerry's.) What I'm trying to say is, you can take mindless eating and make it more mindful; it all starts with your grocery list.
Personally, I don't like to label foods as "good" or "bad" for you, but there's no denying some foods have more health benefits than others, and not just in terms of your physical well being, either. Food is fuel that nourishes the body, as well as stimulates the mind, so mosey on over to your fridge, kitchen cabinets, and assess your staples. If you have a draw or Tupperware container dedicated to sweets, for example, you might want to steer clear of that.
Processed foods with a ton of added sugar and high salt content aren't exactly the best snacking option when you have a ton of work to get done. Trust me, I understand the onset of a chocolate craving when you're overwhelmed with school assignments and office presentations, but keep in mind these are just temporary fixes. A handful of greasy french fries here, and a bite of a Hostess cupcake there might satisfy a five-second craving, but they'll only make concentrating that much worse.
In order to change your mind, you have to switch up your menu. Here are a few brain-boosting foods that will help you concentrate the next time you're stuck.