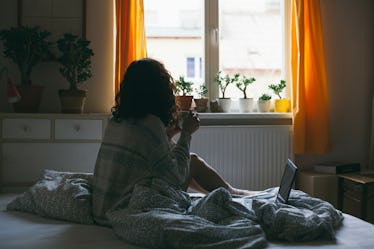 These Foods Help Fight Off Colds & You Probably Have Them In Your Kitchen Already
When you're stuck in the depths of a never-ending winter — and an especially nasty flu season — you've got to get creative with the ways in which you keep your body healthy. After all, it's not just about washing your hands and coughing with your elbow. Staying healthy through flu season often requires a multifaceted strategy, which includes eating foods that fight colds, getting enough sleep, and telling your best friend that you love her, but you honestly can't hang out with her until she gets rid of that wet cough.
Good nutrition is one of the most direct ways to keep your immune system up and running through the winter months. You are what you eat, and what you eat should make you a flu-battling machine.
The good news is that there are tons of different types of food that are excellent at boosting your immune system, not to mention your overall health, and most of them are probably in your kitchen right now.
The best forms of nutrition to fight sickness are filled with vitamin C, vitamin D, and pretty much anything without processed sugar (sugar works to suppress the immune system, so it's not a great option), to name a few. Here are eight foods to help you stave off a cold as you make it through the rest of the winter season.