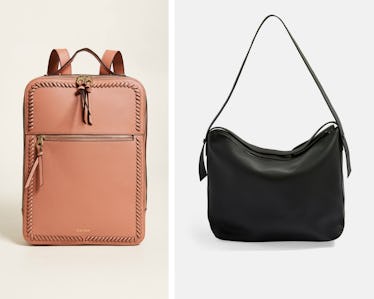 You Don't Have To Choose Form Over Function With These 10 Laptop Bags
Shopbop/ Topshop
Reality check: September is only nine days away! Back-to-school shopping is probably at the top of your to-do list, which means the hunt for cute laptop bags has officially commenced. Rather than settling for the standard black Jansport, why not opt for something with a bit more personality this year? (No shade to Jansport, I love their bags—I simply toted my own black carryall around for so many years that shaking things up became necessary eventually.)
If you think about it, your school bag is the one sartorial item your peers will see you sporting day in and day out. Your outfits will change daily, but your backpack or tote will not. It's essentially what will define your signature look. Taking this into consideration, doesn't it make sense to search for something that will speak to your personality and style but will also still boast major functionality? From doesn't have to be over function, they can coexist quite excellently. Below are 10 bags of all different styles that will fit your laptop, your textbooks, and whatever else you might be toting. Whether your look is more preppy chic, throwback chill, or edgy cool, I've got your back.
Get Ziggy With It
This woven bag boasts a bright color and fun woven design, but its black handle and base color still allow it to retain a sense of elevated chicness. Whether you use it to tote your textbooks or carry your groceries is up to you.
Ivy League
Preppy is the name of the game in terms of this backpack, which features brown leather handles and detailing. Wear it as a backpack or carry it like a bucket bag — the strap choice is up to you.
Colonel Mustard
Mustard yellow is such a good fall color because it's bright and cheery but still neutral enough to go with almost everything. I don't know how that works, either, but it's the truth! Bonus points to this bag for boasting a suede finish.
Blushing Bag
This bag looks expensive AF but it's actually really affordable. Sold.
Red Hot
This bag is a two-in-one thanks to its reversibility. Opt for red if you're feeling extra fiery or blush for something a bit more subtle.
Animal Instinct
Animal prints are huge for fall, so why not get a classic Herschel backpack with a feline twist?
Chill Out
Super simple, sleek, and goes with anything — this is the ultimate lazy girl bag.
Foil Me Once
Silver is also trending for fall, so why not ensure every look you wear is de rigeur thanks to this standard metallic tote?
The '90s Are Calling
And they want their leather backpack back.
Love Totes
Spread love simply by wearing this adorable tote bag. It's just plain cute.