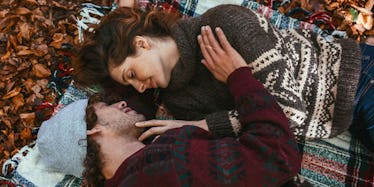 10 Unbearably Cute Instagram Captions For Photos Of You, Bae, & Fall Leaves
All right, it's officially fall, and you're really about to step up your Instagram game. Between all of the seasonal activities you could do with your partner, just hanging around a bunch of leaves for a photo shoot is going to be pretty high up there. It's free, easy, and you'll get cute pictures to post. So you have the pictures, what's next? You'll need Instagram captions for leaf photos with your boyfriend or girlfriend to really rack up those likes. Because what's a good Instagram photo without an accompanying stellar caption? Nothing. That's what.
To choose your festive fall Instagram caption, it'll take some self-reflection. What is your usual caption game like? Do you do puns? Are you overly gushy about how much you love your partner? All things to consider when choosing the perfect caption. Next, think of emojis. Do you like the little icons to add some flavor to your caption game? These are essential to consider. If you need help selecting a caption for your photo, no worries, I got you. I thought of punny, sweet, and clever Instagram captions so you can just go ahead and post. Read on for captions to post with your best autumn leaves pic.