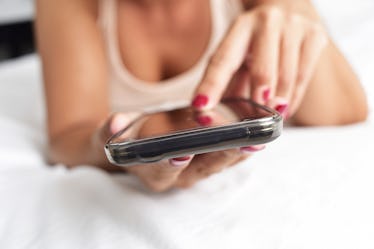 10 Clever Texts To Send Your Partner That'll Get Them Hot & Ready For A Sexy Night
Tell me if this sounds familiar: You're hanging out with bae later tonight, but you're already (and in the middle of your work day) anticipating getting some private, ahem, one-on-one time with them. Don't hold back! Let them know exactly what you are feeling with these texts to send your partner that'll set the mood. Because anticipation feels good, and can only heighten the excitement you both feel about seeing one another.
For some folks, sexy texts can be really explicit and dirty AF, which is great, but I personally prefer something clever that will also make my partner laugh. What can I say? My biggest erogenous zone is my sense of humor. Make me laugh and I am yours. If you're on the same page and you know bae is too, and you want to let your freak flag fly, then give these sexy texts a try next time you're trying to get your partner in the right (read: naughty) mood for what you have planned later that night. Trust me: They'll dig it and may even show up a little bit early, which just means you'll have more time to make good on these sex-ty suggestions. Read on for naughty inspo.