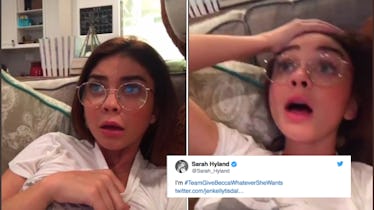 10 Celebrities Who Love 'The Bachelor' & 'Bachelorette' Even More Than You Do
Instagram/Sarah Hyland
Confession time: One of my biggest guilty pleasures when it comes to The Bachelor is not actually watching The Bachelor — it's reading all of the live tweets from celebs who are watching The Bachelor. And while this season was actually pretty boring, the much-hyped finale — in which Arie dumped Lauren and proposed to Becca, only to then dump Becca and propose to Lauren — had stars lighting up the Twitterverse in full force. Maybe it was the awkward, unedited footage of the Arie/Becca breakup, but it seemed like everyone in Hollywood was watching the whole cringeworthy debacle go down. Needless to say, the tweets from celebrities who watch The Bachelor this season were epic.
I mean, live tweeting is an art form in and of itself, and a whole crew of A-listers busted out their A-game during Arie's season, crafting some of the finest, most hilariously on-point tweets I've seen in a while. It was like watching a show within a show — only a better, smarter, funnier one! So instead of saving the best tweet for last, I'm gonna lead with it right out of the gate, because it's just that good. And it comes to us via one Zach Braff, who looks more than a little like the guy we've now come to know as the most controversial suitor in Bachelor history.
Here's what Braff tweeted when he first found out Arie Luyendyk Jr. had been cast as The Bachelor:
"I can't believe I'm the Bachelor!" he wrote. "I didn't even audition. Looking forward to the fantasy suites." Funny, funny stuff.
Now take a look at what he wrote after the dude went and broke Becca's heart on TV by dumping her and going back to Lauren:
"I don't wanna look like this f*cker anymore #TheBachelor," he wrote.
Amazing, right? I mean, let's just give this guy all the awards right now, because Braff's two tweets here serve as the perfect bookends to this ridiculous season. But while the Scrubs star's Twitter skills are a clearly superior 10 out of 10, he's not the only funny guy providing a voice for Bachelor Nation.
Check out this tweet from actor Josh Gad:
"Just finished #AfterTheFinalRose and I am now convinced with my limited knowledge of #thebachelor that Arie is the man at the end of 'La La Land' that broke up Ryan Gosling and Emma Stone," he wrote.
Same. There was also this punny quip from David Spade, after Lauren first got sent home:
Scandal's Josh Malina got right to the point during the finale and pretty much said what we were all thinking:
And how much do you love Justin Long's strategic use of air quotes during After The Final Rose?
"Congratulations to all the 'losers' who now don't have to spend eternity w that 'winner,'' he wrote. Well played, sir!
Meanwhile, Tara Lipinsky gave us all a great Friends reference to help get us through the night:
Ellen DeGeneres shared her own split-screen reaction:
And Meghan McCain took umbrage with the fact that the producers tortured Becca by filming her breakup with Arie, and then sent her home on a Southwest flight — and left her to cry her little old heart out in a middle seat.
She definitely deserved a private plane after that humiliation — or at least a first class ticket!
Of course, my fave Bachelor-loving girl is actress Sarah Hyland, who is 1) currently dating former Bachelorette contestant Wells Adams, and 2) pretty much obsessed with every single show in the franchise. The Modern Family star basically recapped every single episode of the season on her Instagram stories, but here's what she had to say on Twitter during the big finale:
Amen to that! She also retweeted a couple of other people's tweets that featured screenshots of her reactions to the episode from Instagram:
And then she shared her reaction upon learning that Becca will now be The Bachelorette.
Hyland is such a gem. She is basically the gift to Bachelor Nation that keeps on giving. So is Shameless' Emmy Rossum, BTW:
If you did as you were told, you were treated to her Tony-worthy recap of everything that went down.
Who knew Fiona Gallagher was a reality TV fan? Can't wait to see her (and all these other celebs) raise the tweet bar even higher when The Bachelorette premieres on May 28!