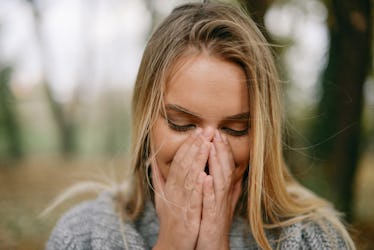 10 Awkward AF Moments That Are Bound To Happen To You In Your 20s
If there's anything that's guaranteed to go down in your 20s, it's that awkward moments unexpectedly decide to have a field day with your life. I know, as if you didn't already have enough going on in this decade, right? Well, the world is just getting started with you, so strap in for those awkward moments that happen to everyone in their 20s.
So, what is "awkward" exactly? Remember that time when it felt like all of the blood that should have been circulating throughout your entire body, winded up in your cheeks? You probably wanted to run, or play possum so that moment would pass faster. It definitely didn't, though.
There are so many avenues that lead to awkward moments, and by the time you're out of your 20s, you'll feel like you've conquered them all. I mean, if you really think about it, how could your 20s not be filled with a cringe-worthy scenario or two? Alas, they happen to the best of us.
The trick is to laugh them off and take them for what they are. Seriously, if you decide to get tied in a knot every time something awkward happens to you in your 20s, then impersonating a pretzel is going to be your side hustle. So, let those awkward times do what they do (as embarrassing as they may be), because it's only a matter of time before any of these 10 things happen.