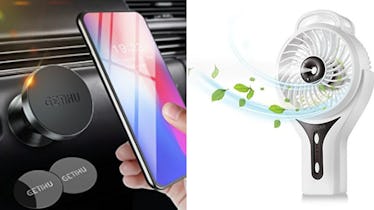 These 10 Amazon Products Will Make Your Life So Much Easier & They're All Under $20
Amazon
Most people have way too much stuff. Thanks to sites like Amazon, there's a product for literally everyone and every occasion, and while I can't deny that I love it, I've definitely fallen victim to buying things I simply don't need. As you might know from experience, buying random products and knick-knacks tends to lead to more frustration than satisfaction. You don't know where to store that hair crimper, you keep losing the parts that go with it (the star indent!), and suddenly, you realize you need a new rule for yourself: Only buy Amazon products that make life easier, rather than exponentially more difficult.
With the expansion of the tech universe, it seems like absolutely everything is becoming "smart," from your speakers to your self-driving car. But when you're trying to decide what products can actually improve the quality of your life, the best thing you can do is go back to the essentials: Think about the things you do on a daily basis — the activities, the routines, the chores — and then consider how you might be able to improve or expedite those little, everyday, mundane things.
The best products for your life are the easiest ones, the ones that help you go to sleep faster, work out more easily, and of course, pay less in the long run. Here are 10 Amazon products that will definitely make your life a little bit easier.