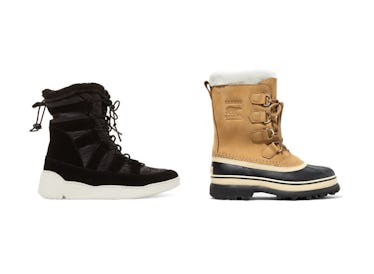 These 10 Snow Boots For Women Are Waterproof, Warm, & — Believe It Or Not — Actually Cute
Puffer coats are annoying in terms of winter wear that cramps your style but sometimes, weather-appropriate footwear can be even worse. It seems like there's a rule that any style with decent treads has to also be monstrously ugly. Finding cute snow boots for women seems to be a task that my friends and I all groan and grumble about year after year, but I'm happy to report that this season's offerings just might bring a smile to our faces. They're chock full of options that blend form and function equally, meaning you might not need to rip off your waterproof kicks the second you get inside to avoid being seen in the clunkers this year.
Thanks to the seemingly everlasting trend that is normcore, things that were once uncool or could be worn by suburban parents are now viewed as ironically stylish. When it comes to snow boots, this is hugely beneficial for reasons that I'm sure are obvious. While some of the below styles err on the side of so-warm-and-waterproof-they're cool, others are truly innovative in design. From classic duck boots to more innovative styles, there'll be something that will catch your eye and is guaranteed to keep you dry, cozy, and slip-free.
It's All In The Details
What makes these boots really cute is the patterned laces, which perfectly complement the white stripe along the shoe's footbed. It's simple, heavily treaded, and faux fur lined. What more could you want?
Zip It
I would've never thought a Walmart snow boot would be among the cutest styles but I'm sure glad it is! It's $40 and boasts a super easy zip closure. Aaaand sold.
Tall Order
If super extreme protection is what you need (I'm looking at you, East Coasters), consider these shin-high duck boots.
Take a Hike
Hiking style boots are a huge trend when it comes to winter 2018 footwear, and this pair just so happens to be waterproof and boast extremely chunky treads. Plus, they're stylish AF—I'd wear these in the summer!
Suede Talker
Featuring cool suede design details, a lace-up front, and contrasting sole, these boots are decidedly fashion forward. They almost look like heavy duty slippers...I want to wear them 24/7.
Gray Scale
If black or tan aren't your cups are tea, try on this pair of gray boots for size. Sorel are basically the gold standard when it comes to snow boots, so you know they'll keep you warm and dry.
Snow Shoe
For those of you who want to match the snow you're treading through.
Icy Shine
Here's another pair of Sorel boots, except this one features a glittery duck toe. That's one way to light up a blizzard!
Fuzzy Feelings
The faux fur trim alone makes me want to slip into these. The rubber sole, sides and toe are just an added bonus.
Duck, duck...
It wouldn't be right not to include the classic black and tan duck boot! Of all of the above, this is my personal favorite. Just looking at it gives me hygge vibes.