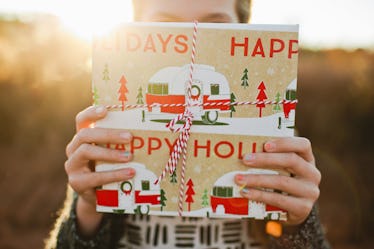 10 Casual Holiday Gifts For The Person You're Dating, But Not Official With
This time of year, there seems to be an endless parade of festive things to do — ice skating, holiday parties, Christmas movie marathons — and it can be really nice to bring a date along with you. Going on a few dates and getting to know someone can be super fun, but coming up with holiday 2018 gift ideas if you're not officially dating can be a totally different story. If you're newly dating, you don't want to come on too strong or intense by giving them something really extravagant, but you also don't want to seem like you don't care enough to get them anything at all. After all, it would be really sweet if they had a thoughtful gift to give you, right?
While you might know exactly what to get for your family and friends, finding a gift for someone you've just started dating might not be so easy. It also might not be at the forefront of your mind, because you're too busy figuring out if you and this person could be a real "thing." In this situation, giving a gift that is on the smaller side is better than being extravagant or skipping a gift entirely! Giving a small(ish) gift to someone you're newly dating lets them know you're thoughtful, whereas something pricey could possibly make your date feel uncomfortable — especially if they don't have a gift to give to you! Navigating the relationship and deciding if you're going to be exclusive or keep seeing other people can be tricky enough, so hopefully this list makes shopping for that person a little easier.