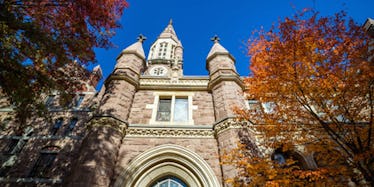 Yale Fraternity Member Accused Of Allowing Only White Girls Into Party
In March 2015, Oklahoma University's Sigma Alpha Epsilon (SAE) chapter made controversial waves when a video surfaced showing several members of the fraternity engaged in a racist chant.
The OU chapter of the national fraternity has since been shut down, and less than 10 months after the incident, another SAE chapter is making similar headlines.
The fraternity is in hot water, yet again, for reported racist comments made by a member of its Yale University chapter.
According to multiple sources, over the weekend in New Haven, Connecticut, an SAE member was allegedly refusing to admit anyone who wasn't white and female into the fraternity's party.
Several students say the SAE brother was shooing away other attempted party-goers while saying, "White girls only."
One Yale student, Neema Githere, took to Facebook to reveal her experience:
I'd just like to take a moment to give a shoutout to the member of Yale's SAE chapter who turned away a group of girls... Posted by Neema Githere on Saturday, October 31, 2015
Many Facebook users commented on Githere's post to share similar disheartening experiences at Yale's SAE house.
Ivonne Gonzalez writes,
Reminds me of the time they asked me and a group of other Latino, predominantly Mexican, friends for our passports when we tried to go to their sh*tty party a little over a year ago... So sorry this sh*t is still happening! Can't stand those rich, spoiled and rude brats.
Columbia freshman Sofia Petros-Gouin was visiting friends at Yale over the weekend and tells The Washington Post,
A group of girls came up who were predominantly black and Hispanic. He held his hand up to their faces and said, 'No, we're only looking for white girls.' … He pulled a blond girl up from the bottom of the stairs — over some people — pushed her inside and said, 'We are looking for white girls only, white girls only.' No brothers corrected him or said anything.
According to The Post, an anonymous Yale freshman had a similar experience when the fraternity member made a derogatory statement about his sexual orientation. The student says,
When I first came up to the door they said, 'Who the [expletive] do you think you are — you're clearly gay.'
The anonymous student waited outside of the fraternity for some time and also attested to hearing a white SAE brother shouting, "White girls only. We're only looking for white girls."
In response to the backlash, Yale University SAE Chapter President Grant Mueller tells The Yale Daily News,
Obviously I was shocked and flabbergasted [at the idea] that anyone in SAE would even have these words come from their mouths. It's just kind of upsetting for me because we try to be so incredibly accepting and take pride in our diversity.
The Sigma Alpha Epsilon National Chapter also issued a response to the claims. Spokesman Brandon Weghorst tells The Post,
The Sigma Alpha Epsilon headquarters has been investigating the allegation since it was first brought to our attention. Based on preliminary information we have received, law-enforcement officers received a noise complaint and visited the house where members held a social event over the weekend, asking the men to stop admitting guests and to clear the steps and sidewalk. The brothers complied with the direction given to them and halted any additional attendance by guests in order to avoid a citation.
Time will tell whether SAE's Yale University Chapter will stay standing, but stories such as these only add to a long list of adverse happenings within the Greek life community.
Citations: Students accuse Yale SAE fraternity brother of saying 'white girls only' at party door (The Washington Post), Yale Frat Bro Accused of Only Letting White Girls Into Party (Complex UK)