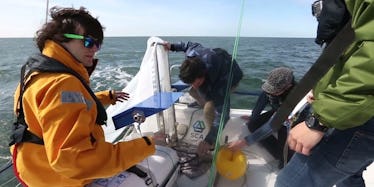 This 20-Year-Old Designed The World's Very First Ocean Cleaning System
At the age of 20, The Ocean Cleanup founder and CEO Boyan Slat is launching the world's first free-floating tool to clean garbage out of the ocean.
Who says you have to be middle aged to accomplish your goals?
At South Korea's Seoul Digital Forum on May 20, The Ocean Cleanup head announced plans to deploy the 1.2-mile-long buoyant barrier system off the coast of Tsushima, an island located between Japan and South Korea, in 2016. It will reportedly be the longest floating structure to date.
In a press release, The Ocean Cleanup says the water off the island is so polluted, roughly 35 cubic feet of trash per citizen washes up every year.
Moreover, the Tsushima floating trash trap will act as something of a trial for Slat's company.
Within five years, The Ocean Cleanup hopes to tackle at least half of the Great Pacific Garbage Patch, which drifts in the water between Hawaii and California.
In August, Slat with launch the Mega Expedition. With a fleet of 50 boats, The Ocean Cleanup will reportedly collect more measurements of plastic buildup in the Pacific during a three-week period than have been made in the last 40 years.
Of the Tsushima float, Slat said, "Taking care of the world's ocean garbage problem is one of the largest environmental challenges mankind faces today."
"Not only will this first cleanup array contribute to cleaner waters and coasts..."
"But it simultaneously is an essential step towards our goal of cleaning up the Great Pacific Garbage Patch."
"This deployment will enable us to study the system's efficiency and durability over time."
Interested in what it's like to be a 20-year-old saving the world? Get to know Slat through this Motherboard documentary, released last September.
Citations: 20-Year-Old To Launch Worldu2019s First Ocean Cleaning System In 2016 (IFL Science)