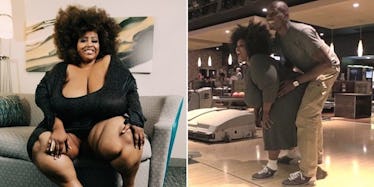 This Woman Makes $1,300 A Day Crushing Men With Her 32-Pound Boobs (Photos)
When it comes to breasts, there's a fine line between big and too big.
Kristy Love passed that line about 20 cup sizes ago.
But, 36-year-old Love embraces her size 48NN breasts and even makes a living off them: Her career as an "adult masseuse" involves "squishing" and "smothering" clients with her 15.8-pound (each) knockers.
Some of her clients, Love admits, even ask to be "hit over the head" with them. For this, she makes up to $1,300 per day.
For Love, though, a rewarding, well-paying job is not enough: She really wants to find her soulmate.
The Atlanta, Georgia-based adult masseuse recently starred on an episode of TLC's "Strange Love" and publicly declared her search for romance.
She said,
I'm looking for true love... Someone who I love, and who loves me. My boobies do not need to be alone; it's time for them to find a man.
Love hopes to find a man who will "redirect his focus" to her instead of her massive breasts. Her cleavage is quite impressive, though, and she proudly stores items like her phone and wallet in there.
She does admit, however, they often get in the way, especially when she's cooking.
Love said,
Sometimes they get in the pot, sometimes they get in the pan, sometimes they get caught on the burner.
That's not all. When she's working, Love admits,
I have to keep an eye out when I'm squashing someone. I look at their feet and fingers to make sure there is still movement and they're still breathing.
Still, she adamantly rejects the idea of getting a breast reduction, calling her massive bosom her "bread and butter," and insists,
I'll never be ashamed of my body.
Here's hoping Love finds a man who feels the same way and, of course, doesn't mind his girlfriend suffocating other men with her almost 32-pound chest.
"Strange Love," indeed.
Kristy Love's bra size is a whopping 48NN.
Each breast weighs 15 pounds.
Bustiness runs in her family. Her sister was a 52NN before a reduction.
She wants to find a man who loves her, not just her chest.
She makes a living off squishing men with her chest.
pic.twitter.com/dTuRnDMoYl — BBW Kristy Love (@BBWKristyLove) January 26, 2015
And makes up to $1,300 a day doing so.
pic.twitter.com/dxhODehVYU — BBW Kristy Love (@BBWKristyLove) January 29, 2015
Love is a self-titled proud BBW (big, black woman).
black history month in 2011 BBW Kristy Love became the first international internet bbw sex symbol #bbw #afro pic.twitter.com/4pkSIItwtr — BBW Kristy Love (@BBWKristyLove) February 7, 2015
She says she'd never get a reduction.
pic.twitter.com/BeNI3HjV7n — BBW Kristy Love (@BBWKristyLove) March 1, 2015
Love recently appeared on TLC's "Strange Love."
BBW Kristy Love Wed. March 11th At 10pm Strange Love TLC #TLC #ttlcchannel pic.twitter.com/lzfRVxKZMp — BBW Kristy Love (@BBWKristyLove) March 9, 2015
Love loves her body.
#bbw #kristylove #bigwomen #biggirls pic.twitter.com/omOMG7QJHl — BBW Kristy Love (@BBWKristyLove) February 5, 2015
Citations: Kristy Love With 48NN Breasts Documents Her Struggle in TLCs Strange Love (Daily Mail), Busty Masseuse Smothers And Hits Clients With Her Massive Boobs (Mirror)