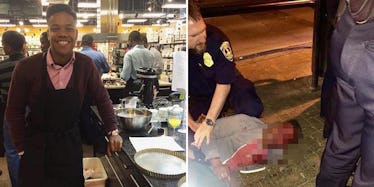 UVA Student Gets 10 Stitches For Head Injury After 'Forceful' Arrest
Facebook / Twitter
A group of Virginia Alcohol Beverage Control (ABC) officers are being investigated for excessive use of force after bloodying the face of a black student, whose injuries required 10 stitches.
Yahoo! News reports that University of Virginia student Martese Johnson, 20, had just been rejected from a bar near campus at about 12:45 on Wednesday morning when an ABC officer took his arm and brought him over to some colleagues.
A witness said Johnson tried to pull away when the officer dismissed his pleas to let go of his arm.
Two ABC officers then forced Johnson to the sidewalk, gashing his head in the process.
I stand with Martese Johnson. There is no excuse for this. @VirginiaABC you should be ashamed. pic.twitter.com/4j3bnfDlBI — UVAProblems (@UVAProbs) March 18, 2015
Johnson, who is a third-year student, was arrested for obstruction of justice without force and public swearing or intoxication.
He was released, however, just a few hours later, Vox reports.
The officer who arrested Johnson claimed he was acting aggressively, but witnesses say this was not the case.
State police are now investigating the officers involved upon a request from Virginia governor Terry McAuliffe.
The officers involved have been moved to administrative positions for the duration of the investigation.
Video of the incident taken by fourth-year UVA student Bryan Beaubrun shows Johnson yelling,
I go to UVA, you f*cking racists… How does this happen?
Johnson, who has no criminal record, was described by his lawyer as an Italian and Media Studies major who is very active in student organizations.
This is the second time ABC officers in the area have been accused of unnecessary violence.
In April of 2013, Yahoo! News reports, officers confused a UVA student's sparkling water for beer and surrounded her car just outside a Charlottesville supermarket without properly identifying themselves.
A lawsuit awarded the student $212,500 from the state of Virginia in 2014.
Citations: Virginia gov calls for investigation into students arrest (Yahoo News), Black UVA student left bloody needing stitches after police arrest (Vox)