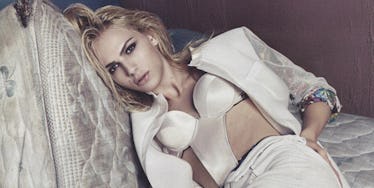 10 Prominent Millennials Making A Difference In The Transgender Community
Vogue Korea
In the wake of Bruce Jenner's special, the spotlight is even greater on the transgender community.
Time magazine claimed we are in the age of the transgender tipping point, and with trans icons like Laverne Cox and now Jenner, it's hard to argue against that.
While famous trans people are nothing new (hello, Candis Cayne and Chaz Bono), suddenly it seems like what was once taboo is slowly but surely becoming less stigmatized.
It wasn't too long ago that the trans community was severely underrepresented in the news, despite a history of violence that pre-dates the tipping point by decades.
The advantage Millennials have, versus someone like Jenner, is the access to information and the support created and nurtured by social networks and a growing number of community centers and advocacy organizations.
Through online platforms, many trans people can share their stories and shed light on the shared experience among the nearly 700,000 Americans that make up the transgender community.
Here are 10 of the most prominent Millennials who are connecting with trans and non-trans people alike, and raising awareness like never before:
1. The Cover Boy: Aydian Dowling
He could become the first transgender to be on the cover of Men's Health, and just by the looks of him, he is clearly worthy.
Dowling has chronicled his transition on YouTube for about five years, and also founded BeefHeads fitness on YouTube for trans people looking to get fit.
"It would be so affirming to just know that the man that I set out to be is somebody people think is a good man," Dowling told The Daily Beast.
2. In Vogue: Andreja Pejić
The 23-year-old model made history in May this year, as the first trans model to be featured in Vogue.
But even before her high profile and her Anna Wintour-approved rise to fame, she was known for her androgynous look.
"In the beginning, I was worried there are too many shots of me as a boy out there.
Now I'm at a point where I know my past doesn't make me any less of a woman today. I can be proud of it. I don't have to bury it," she told the New York Times.
Last year she launched a Kickstarter campaign to help fund a documentary about her journey. The goal was $40,000 and they raised $67,026, so expect to see a lot more of Pejić this year.
3. The Superstar: Laverne Cox
She broke ground as Sophia Burset, the only trans character in "Orange is the New Black," and created a nuanced character who can rock metallic duct tape sandals like no one else.
She was on the cover of Time magazine as the face of the transgender movement, and continues to shed light on issues not often talked about in the mainstream narrative.
During an interview with Katie Couric, Cox eloquently reinforced that the tendency to focus on the physical transformation takes away from the hate crimes that affect trans people on a regular basis.
"By focusing on bodies, we don't focus on the lived realities of that oppression and that discrimination."
4. America's Top Trans Model: Isis King
She became the first transgender model featured in "America's Next Top Model" and didn't let the haters get the best of her.
Instead, she became an educator on the effects bullying has on trans individuals.
She didn't win the model competition, but since then, she's become the first openly transgender model to work for American Apparel.
5. The Queen Of Keeping It Real: Janet Mock
Arguably the most famous contemporary transgender writer, Mock's memoir, "Redefining Realness," got the Oprah seal of approval during a recent episode of "Super Soul Sunday."
In her book, Mock chronicles her journey, including her decision to transition while in high school, which was sparked by the friendship of a fellow trans girl who saw her for the girl she always felt she was.
She's also launched the Twitter campaign #girlslikeus for women to discuss relevant issues in a supportive environment.
The former People editor is engaged and wrote about the stigma some men face when dating a trans woman saying:
"I am a trans woman. My sisters are trans women. We are not secrets. We are not shameful. We are worthy of respect, desire, and love. "As there are many kinds of women, there are many kinds of men, and many men desire many kinds of women, trans women are amongst these women. And let's be clear: Trans women are women."
6. The Reality Star: Carmen Carrera
She first appeared on "RuPaul's Drag Race," but her appearance on the "Katie Couric Show" is what had everyone talking after she refused to talk about gender reassignment surgery:
"They always focus on either the transition or the genitalia, and I think there is more to trans people than just that."
A vocal and fierce advocate, she wasn't afraid to call out RuPaul's show for its use of the term "shemale," deeming it offensive.
7. The Feisty Blogger: Joanna Cifredo
She is a Latina writer and founder of FireBreathingTGirl.com, a bilingual blog, filled with commentary on trans coverage and videos that debunk transgender myths (like surgery isn't the be-all, end-all for all transgenders).
She's launched a citywide initiative in DC called "SIS to CIS," where trans and cisgender (those whose gender identities match their sexes) women of color come together to discuss womanhood and how their experiences intersect.
8. The Little Girl With The Big Voice: Jazz Jennings
With the help and support of her parents, she transitioned at 5 years old, and quickly gained attention through videos posted on her YouTube channel where she explains, "She has a girl brain and a boy body."
Now the 14-year-old has published a book describing what it's like to transition as a teen, but her trailblazing ways don't end there.
She's an honorary cofounder of the TransKids Purple Rainbow foundation, and she sells mermaid tails through Purple Rainbow Tails to raise money for transgender children.
Oh, and she's going to be a part of a TLC docuseries chronicling her life as a trans teen, in case she didn't have enough going on.
9. The Artist: Kylie Wu
She's funny, smart, artistic and just like any other girl in her 20s who's still trying to figure sh*t out.
Her comics help normalize the trans experience, reminding us that we're more alike than we are different.
She tackles girl and trans girl problems, including dealing with acne and online shopping fails to tucking and having a reflection that reflects who she really is.
10. The Voice: Geena Rocero
The Manila-born model started out as a teenage beauty pageant queen, but didn't come out as transgender until last year when she gave a TED talk that quickly went viral and got more than 2.5 million views.
Since then, she's founded Gender Proud, an advocacy organization for transgender individuals.
In a piece for CNN, Rocero wrote:
"I was not born a boy, I was assigned boy at birth. Understanding the difference between the two is crucial to our culture and society moving forward in in the way we treat — and talk about — transgender individuals."