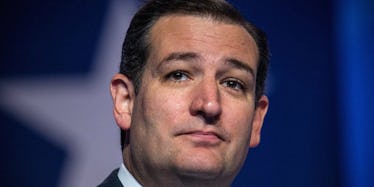 Ted Cruz Voted Against Hurricane Sandy Aid But Wants Aid For Texas Floods
Getty Images
Texas Senator Ted Cruz requested federal aid in response to the torrential floods that killed dozens in his home state.
The Republican presidential candidate did not, however, vote for federal aid for the victims of Hurricane Sandy.
On Wednesday, Cruz reportedly said,
[I support] the federal government fulfilling its statutory obligations, and stepping in to respond to this natural disaster.
But when a disaster relief bill was proposed after Hurricane Sandy in January of 2013, Cruz said,
[The bill is] symptomatic of a larger problem in Washington – an addiction to spending money we do not have.
The Huffington Post reports Cruz made this decision because not all of the bill's funds would be used for repairing the damage, but instead, the funds would be used toward "Smithsonian repairs, upgrades to National Oceanic and Atmospheric Administration airplanes and more funding for Head Start."
It looks like the presidential elections will be even more interesting this time around.
Citations: Ted Cruz who voted against Hurricane Sandy aid calls for federal relief following Texas floods (The New York Daily News), Ted Cruz Bill Flores Asked For Federal Aid After Texas Explosion But Voted Against Sandy Relief (The Huffington Post)