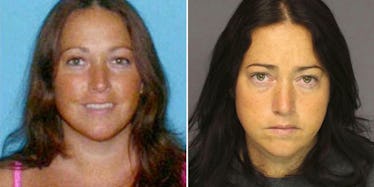 Teacher Charged With Having Sex With Six Students Aged 14 To 15
Essex County Sheriff's Office
A New Jersey high school teacher has been charged with having sexual encounters with six students, one of which was reportedly caught on film.
Prosecutors allege mother-of-two Nicole DuFault, 35, had sexual relations with the 14- and 15-year-old boys in 2013 and 2014.
Exactly how long the relationships lasted isn't clear, but The New York Daily News says they went on for over a year.
According to prosecutors, the acts occurred in DuFault's car and at Columbia High School in Maplewood, where DuFault taught language arts for nine years.
She was arrested last September and now faces 40 counts of aggravated sexual assault and child endangerment.
Investigators claim to have found a video of DuFault giving one of the students oral sex in the presence of another victim, reports the Daily News.
Daily Mail reports at least five of the students have confessed and several individuals claim to have witnessed the sexual acts being performed.
DuFault's attorney says she has a "commendable background and unblemished work performance," but according to Daily Mail, she has previously been accused of using inappropriate sexual language in class and lying on her resume.
The teacher is currently free after posting bail for $500,000 and will appear in court on March 6.
She has additionally lost custody of her two sons, ages 2 and 4, and her husband divorced her last year.
Citations: Mother of two New Jersey teacher indicted for having sex with SIX students under 16 and filming at least one encounter (Daily Mail), New Jersey teacher had sex with 6 different students ages 14 and 15 at school (The New York Daily News)