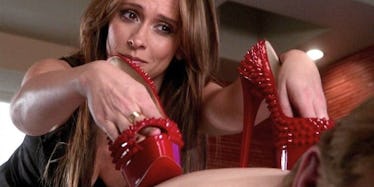 Stripper Has Threesome With Tech Mogul And Extorts Around $3 Million
The Client List/ Lifetime
In news giving us "Sons of Anarchy" vibes, a stripper and her parents extorted around $3 million from a tech mogul, spending the money on Harley-Davidsons, jet skis and lavish lifestyles.
Detroit News reports Paul Vagnozzi, a tech millionaire, handed over millions to Jessica Tackett and her parents after she told the retired businessman she would report the threesome they had with her underage cousin.
The two allegedly met in Detroit while Jessica was working as a topless dancer at a bar in 2008. Their nights at the strip club turned into casual sexual encounters where Jessica would be paid for her services.
Eventually, Jessica's younger cousin got involved. And then, the sh*t hit the fan.
Tackett began telling the man, who sold his company in 2005 for over $8 million, she had powerful friends who could hurt him if he did not cooperate.
What a bad bitch.
Her family worked together to suck as much money as they possibly could from the man, even threatening they would say it was a rape rather than consensual sex.
Well, it turns out their plan worked (for a while, at least). The millionaire handed over huge sums of money to Jessica and her family from 2008 to 2012.
Her father took that money and laughed all the way to the bank, spending most of it on motorcycles and gifts for his strippers, prosecutors say.
The court records of the conspiracy against the software mogul were unsealed last week, and Jessica Tackett is facing five years in prison and $250,000 in fines.
Her father, Terry, is facing a total of 119 charges, including everything from obstruction of justice to tax evasion and money-laundering.
Citations: Alleged hooker, parents accused in $3M extortion plot (The Detroite News ), A Stripper Used A Threesome With Her Cousin And Rich Lover To Extort $3 Million (Uproxx )