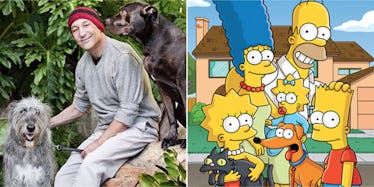 'Simpsons' Co-Creator Donated $100 Million To Animals Before He Died
Twitter/Fox
Sam Simon, co-creator and executive producer of "The Simpsons," just passed away from colon cancer.
He is remembered as a man with a tremendous sense of humor and an even bigger heart.
Rest in peace and thank you for The Simpsons, Sam Simon. — Hank Azaria (@HankAzaria) March 9, 2015
RIP Sam Simon. Thank you for the laughs. pic.twitter.com/eiPB4Zmhiv — HootenAnnie (@hooten_Annie) March 9, 2015
"The Simpsons," which kicked off in 1989, is America's longest-running sitcom. Through it, Simon helped bring laughter and joy to millions of people across the world.
Yet, he should be remembered for far more than his contributions to television.
Indeed, Simon was also a deeply caring man who set an important example for the world through his philanthropic efforts.
In 2012, when he was diagnosed, he was told he only had around three months to live. Most people would likely turn inward after receiving such devastating news, but Simon did the complete opposite.
Not long after his diagnosis, Simon decided he would donate his entire $100 million fortune to charity.
R.I.P. Sam Simon, beloved writer-producer of THE SIMPSONS who spent the last years of his life making people laugh & giving away his fortune — Jeff Sneider (@TheInSneider) March 9, 2015
He focused primarily on donating and bringing awareness to a cause he had always felt extremely passionate about: animal rights. 
Before he died, he worked tirelessly with PETA while also establishing the Sam Simon Foundation, which helps train service dogs.
Additionally, Simon was a staunch supporter of Save the Children and donated a portion of his millions to the organization. 
While most people see cancer as inherently negative, Simon argued that it was one of the best things that ever happened to him. It gave him a purpose in life and allowed him to foster deeper connections with other people.
During an interview with Maria Shriver he stated:
I think that my passion for the animals, and against animal abuse, is based on the knowledge that these creatures that feel and think can't speak for themselves and they're dependent on us for that. And I feel it's my responsibility to speak for those who can't speak for themselves.
Simon took something awful -- cancer -- and used it as a means of bringing about palpable and benevolent changes in the world.
Your power did not lie in your money, fame or genius, @simonsam, but in the way you gave all you had to the powerless. Missing you. — Norm Macdonald (@normmacdonald) March 9, 2015
Simon is an example for us all. He not only made us laugh, he showed us that even the worst news in life can become a source of inspiration for amazing and compassionate undertakings.
Watch his touching interview with Shriver, in which he explains his philosophy on cancer and animals:
Citations: Terminally Ill Simpsons Co-Creator Sam Simon to Donate His $100 Million Fortune to Charity (Time), Simpsons Co Creator Sam Simon Left Entire Fortune To Needy Moves Charities To Make Emotional Tributes (Huffington Post)