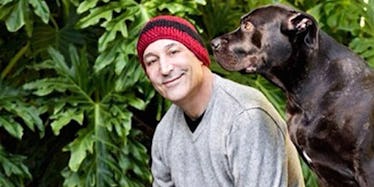 Sam Simon, Co-Creator Of 'The Simpsons,' Loses His Battle With Cancer
Facebook
Sam Simon passed away at the age of 59 after his lengthy battle with colon cancer.
Simon was best known as a co-creator of "The Simpsons," the longest running American sitcom of all time.
He died at his home in Los Angeles in the company of his family and his beloved dog.
Simon was a major animal rights advocate. During his life, he donated a great deal of money to PETA and went so far as to personally save mistreated animals.
Prior to his death, Simon announced he would leave the bulk of his $100 million fortune to charities.
The Sam Simon Foundation told TMZ,
For those of us who knew him, his voice will forever echo in our minds; his sense of humor will continue to make us laugh; and his compassion and generosity will continue to impact our lives. Sam, you will be missed by many, but there is a particular sadness among our clinic staff. We have been together for so long, and your absence will forever leave a void in our lives.
Our thoughts are with Simon's family and friends. May he rest in peace.
Citations: Simpsons Co Creator Dies After Long Battle With Cancer (TMZ)