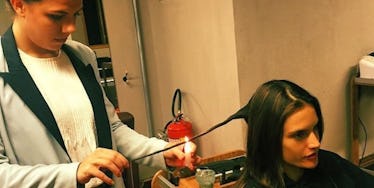 Women Are Literally Burning Off Their Hair For This Bizarre Reason
I'd do some crazy sh*t to look like a Victoria's Secret Angel, but I'm not sure I'd be willing to do this.
Apparently, Alessandra Ambrosio burns off her hair to get rid of split ends. Call me crazy, but that just doesn't feel worth it.
The model Instagrammed a photo of herself receiving the Brazilian treatment called Velaterapia. It consists of running a candle flame up and down a twisted piece of dry hair.
Even if the end result is beautiful Angel hair with zero flyaways, I'm not sure it's worth enduring the smell of burning hair.
Besides, I have a feeling if people who aren't trained professionals try to do this treatment by themselves, they'll just burn their heads off.
To avoid that, I'd suggest finding a trained professional to burn your hair off for you.
Or be a normal person and just get a trim.
You can almost smell the sweet aroma of burning hair.
From the looks of it, the process may be worth it.
Here's a video showing how the whole process is done:
Citations: Heres Why Women are Putting an Open Flame to Their Hair (BuzzFeed)