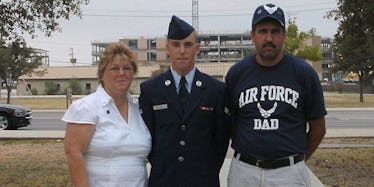 Prison Worker Was Going To Drive Escaped Murderers But Got Cold Feet
Facebook
The woman who helped two inmates escape from a New York prison also planned to be their getaway driver, but she bailed on them just before they broke free.
Joyce "Tillie" Mitchell, 51, supervised convicted murderers Richard Matt and David Sweat as they worked in the tailoring shop at Clinton Correctional Facility.
Investigators suspect she helped the pair acquire the power tools they used to cut through walls and pipes to flee the maximum security prison either late Friday or early Saturday.
According to Daily Mail, Mitchell admitted she was supposed to pick them up in a car after they crawled out of a manhole outside of the facility's 30-foot walls.
She changed her mind, however, shortly before checking herself into the hospital on Saturday due to panic attacks, CNN reports.
Phone calls to numerous connections to Matt were also discovered on Mitchell's cell phone, though she may not have made the calls or even known about them.
The married mother of an Air Force member is reported to be willingly providing all information requested by police.
She is yet to be arrested or charged.
A source told the New York Post Matt charmed Mitchell into helping him, and she accepted the risks involved under the belief "there was something more between" them.
Mitchell's son, Tobey, doesn't deny his mother may have been taken advantage of and refuses to believe she played a crucial role in the escape.
He said,
She is not the kind of person that's going to risk her life or other people's lives to let these guys escape from prison.
Mitchell's husband, Lyle Mitchell, also works at the prison as an industrial training supervisor.
Authorities don't think he knew anything about his wife's connection to Matt.
Matt and Sweat are thought to be sneaking around Willsboro or Dannemora in upstate New York on foot.
Residents in both towns reported sightings of the two.
Citations: Married prison worker CONFESSES that she agreed to be getaway driver for Shawshank escapees but her bewildered son takes to TV to insist she would NOT help them unless she was threatened (Daily Mail), Prison worker planned to pick up escaped killers changed her mind (CNN), Escaped killer won prison workers heart then left her (The New York Post)