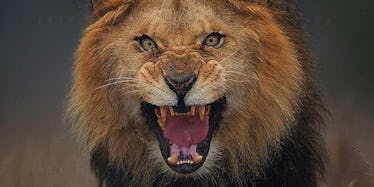 Brave Photographer Was Nearly Killed Capturing This Majestic Lion Shot
I'm sure you've heard the saying, a picture's worth a thousand words.
That may be true, but this picture brings but one to mind: Run.
Shot by wildlife photographer Atif Saeed, the photograph features a large male lion mid-roar -- seconds before it lunged at said photographer in a very close attempted attack.
Saeed was cruising a wildlife park near Lahore, Pakistan, when he spotted the lion. He exited his Jeep to get a closer shot and ended up just 10 feet from the animal before it began to angrily approach him.
The photographer managed to run back to his Jeep with just seconds to spare before the giant cat could attack him.
Saeed recalls,
I was sitting in front of him just near my car and the door of my car was open. I was on [the] ground a few feet away, so he was treating me like his prey… I was laughing at that time, but now when I think back about the incident, I don't think I would be able to do it again. It was a pretty close encounter.
Since we know the outcome, we can say the near-death experience was absolutely worth it for this stunning photograph. Next time, though, we suggest he invest in a zoom lens and keep his distance.
Citations: This picture almost got the photographer killed (Happy Place )