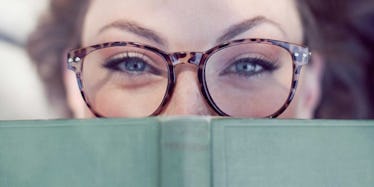 Science Says That People Who Wear Glasses Really Are Smarter
This one is for all my four-eyed peeps out there who were ever made fun of for wearing glasses.
It looks like we get the last laugh after all, my friends.
New research shows that those of us who use specs are more likely to have a higher education than the rest of the population.
Researchers from the University Medical Center in Mainz, Germany, conducted the first-ever population-based study on sight and found that 53 percent of college grads in Germany had myopia, or nearsightedness.
In comparison, only 24 percent of college dropouts suffered from the same condition.
See? You're making fun of suffering geniuses. You have no idea what we are going through.
Researchers also studied 45 genetic traits that could cause myopia in life, but they found those factors to be much weaker in developing poor eyesight than a person's level of education.
What's even more awesome for those of us who don frames is people view us not only as smarter but also more professional.
A new study by the British College of Optometrists shows that people who wear glasses are seen by others as being more intelligent, more professional and more likely to receive work.
It's a pretty familiar concept for most Americans: We associate those who wear glasses with classic book smarts and general intelligence.
But this study goes a step further, revealing that most people think spec-wearers are more worthy of a career.
And, honestly, there are examples of this all around us. Take, for example, Kim Kardashian.
Here's a pic of her without glasses, in her usual surrounding:
Now, here's one of the reality star sporting some serious specs:
See? Kim wore a pair of glasses and decided to turn her entire life around. Now, she teaches in underprivileged communities. Go figure.
Other research shows that people see more pretty awesome traits in glasses-wearers, too.
NYMag says defense lawyers are having their clients partake in a new trend to help get them off scot-free. Apparently, people are more inclined to trust those who wear glasses.
Researchers think it creates an unspoken defense for people on trial, causing them to seem more innocent and trustworthy.
The British study also shows that over 40 percent of the people who do not regularly wear glasses said they would use a pair of specs in order to have a better shot at getting hired for a job.
Do people who don't need glasses seriously think they have some sort of an advantage over the rest of us? So you can see sh*t really far away. Big whoop.
All I have to do is put on my glasses, and I see just as well as you. And people are nice to me because they automatically think I'm friendly and trustworthy. And I get job offers. So there.
So, if you're mad because I landed the job you would kill for, you can blame it on my glasses.
If anyone has ever laughed at your glasses, don't even give them a second glance. Push your specs up even higher, and know they'll most likely work for you one day.
Besides, they could never rock those frames like you, even if they tried.