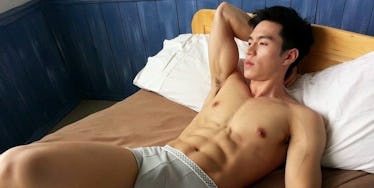 People Are Losing Their Minds Over 'Taiwan's Hottest Bean Curd Seller' (Photos)
If there's one thing the Internet can never seem to get enough of, it's a hot man.
Over the last few days, a bean curd shop in Taiwan, Chuan Tong Zhi Zui Dou Hua Tang, suddenly surged in popularity, especially among the ladies.
However, the women who have been swarming this store aren't coming here for the bean curd; they're actually coming for the eye candy.
That's right, this shop has a smoking hot employee who's been dubbed "Taiwan's hottest bean curd seller," and now, all sorts of ladies are going crazy over this shirtless street vendor.
There's a rumor going around that this heavenly hunk is actually the owner's son, and upon doing a little digging, we were able to uncover the identity of this mysterious, mesmerizing man.
According to Facebook, this heavenly hunk is actually Yi Tin Chen.
After seeing this guy, you might just decide to start eating more soy products.
Women have been flocking to a bean curd shop in Taiwan over the past few days.
But, these hungry ladies aren't waiting in line for the food.
They're hoping to catch a glimpse of something not on the menu...
Like a sizzling hot shirtless employee...
...who has just been named "Taiwan's hottest bean curd seller."
People have been making all sorts of speculations about who this handsome hunk is.
And now, we finally know the identity of this handsome devil.
Yi Tin Chen is a 26-year-old living in Taipei.
In addition to being the world's most sought after street vendor, Chen is also a promotional model.
When he's not modeling or working up a sweat at the bean curd stand..
...you can usually find him working on his washboard abs.
He's in such good shape, he's even competed in fitness competitions.
If his good looks and huge muscles aren't enough to melt your heart...
This dude is also great with babies...
...and he loves dogs. Seriously, what more could you want out of a guy?
Citations: Women going gaga over Taiwans hottest bean curd seller (Shanghaiist)