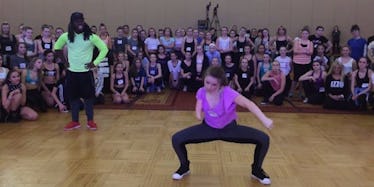 15-Year-Old Hip-Hop Dancer With One Arm Performs Incredible Routine (Video)
Having a disability, by nature, makes certain things more difficult than they would be otherwise.
But just because someone has a physical disadvantage doesn't mean he or she can't succeed.
Fifteen-year-old Lexi Daniels proves this better than anyone else. The teenager from Columbus, OH, was born with only one arm, but she doesn't let that get in the way of her dreams of becoming a professional dancer.
A video of the teen's performance at the JUMP Dance Convention surfaced over the weekend, and it has since been making major waves as one of the most impressive -- and inspirational -- performances ever.
While taking a class with celebrity choreographer WilldaBeast Adams, Daniels took to the dance floor to perform the new routine by herself. As you'll see, she nails it.
The video is so impressive, in fact, that WilldaBeast himself posted it to his YouTube page, writing,
Had to call this girl out and give her light and make her feel special, because she is. #Inspired.
Daniels hopes the video of her dancing will inspire others with disabilities to follow their dreams.
She said,
I want everyone considered 'disabled' to prove to everyone else that they are nowhere near disabled if they put their mind to a goal. It will not be easy... but in the end when you achieve what you have always wanted, it will be worth it.
Preach, girl.
Citations: Meet Lexi Daniels the 15 Year Old One Armed Hip Hop Dancer Who Is About To Blow Your Mind (Huffington Post)