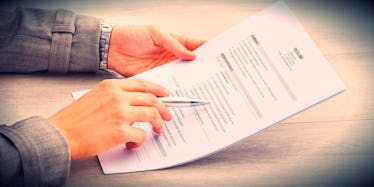 Experts Say Using Times New Roman On Your Resume Makes You Look Basic
Shutterstock
It's no secret having a standout resume is important if you're on the hunt for a new job; it's an employer's first impression of you as a potential employee.
The content is, of course, the most important part of a resume. But according to Bloomberg, the font you use carries more weight than you might think.
Professional resume writer Wendi Weiner says,
Since a prospective employer is looking at the resume for only [a few] seconds, you want a font that is aesthetically pleasing and grabs the employers attention at a quick glance. The resume should be sophisticated in design with clear headings that stand out.
This means your standard Times New Roman won't cut the mustard.
Brian Hoff, creative director of Brian Hoff Design, says,
It's telegraphing that you didn't put any thought into the typeface that you selected.
He even says using Times New Roman on a resume is like "putting on sweatpants" for an interview.
Interestingly, Times New Roman did make Business News Daily's list of acceptable resume fonts, but it was noted the font "may be construed as boring and unimaginative and is unlikely to stand out in a sea of resumes."
Other no-nos: typewriter-style Courier and the ever-despised Comic Sans, the latter of which should never be used professionally "unless you are applying to clown college," Hoff insists.
The winner, according to Bloomberg's experts is Helvetica, a "no-fuss," "lighthearted" font.
Calibri, Georgia and Garamond, on the other hand, topped Business News Daily's list of the best resume fonts.
Keep this info in mind next time you're looking for a job, and you might just find yourself with more than one offer to choose from. And be sure to check out these 14 things every resume should have. 
Citations: Times New Roman Dubbed The Sweatpants Of Fonts Is A Bad Choice For Resumes (Huffington Post)