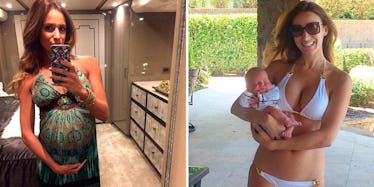 This Insanely Fit NASCAR Wife Has The Most Unreal Post-Baby Body (Photos)
Instagram
Super-fit pregnant model Sarah Stage just got showed up by Kyle Busch's wife.
For those who don't remember, Sarah Stage made headlines earlier this year because of her crazy-fit pregnancy body.
But now, she's got some serious mom bod competition in the form of Samantha Busch, NASCAR pro Kyle Busch's wife.
Recently, Busch uploaded a photo to Instagram, showing her with her newborn baby son, Brexton. The snap is making major waves on social media --  not because of the baby, but because of how damn good Busch looks post-baby.
It shouldn't come as much of a surprise: Busch exercised throughout the duration of her pregnancy.
She credits the Andrea Orbeck Pregnancy Sculpt and Suzanne Bowen's Slim & Toned Prenatal Barre workouts for her slim bod.
This was posted just a few weeks before she gave birth.
The post-pregnancy photo of the new mom is going viral (and for good reason), and Kyle, a NASCAR stud himself, couldn't be more proud of his wife, whom he calls "a champ."
Take a look at this crazy post-pregnancy selfie, and you'll understand why.
Citations: Kyle Buschs Wife Insane Bikini Bod 1 Week After Giving Birth (TMZ)