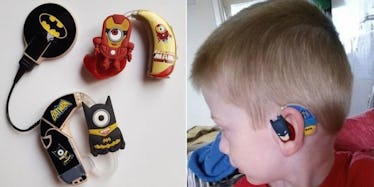 Coolest Mom Ever Designs Superhero Hearing Aids Just For Children (Photos)
When mother Sarah Ivermee learned her friend's daughter felt embarrassed wearing her hearing aid to school, she had a brilliant idea: She decided to turn the aid into an accessory.
Ivermee, whose son Freddie is also partially deaf, began by adding stickers to the cochlear implants for a little pizazz.
But now, the amazing mother manages her own company, Lugs, that makes the fashionable hearing aids for kids.
Some of her most popular designs are decked out with superhero decals and miniature plastic cartoon figurines.
The kid-approved aids start at around $14 and come with a range of vinyl stickers and fun add-ons for children to choose from.
Check them out below, and learn more at the company's website.
Ivermee designs cool superhero hearing aids.
There are hearing aids decked out with Minions...
...and countless other kid-friendly designs!
Citations: Supermom Designs Awesome Superhero Hearing Aids For Kids (Mashable)