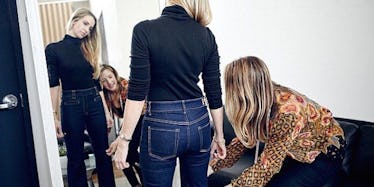 This Model's 'Perfect' Butt Is Used By Elite Denim Brands For Designs
This model doesn't have dumps like a truck (truck, truck), but she does have designers saying "what, what, what."   (I DARE anyone to start an article with a better sentence.)
When jean companies need a model with the perfect behind to try on some dungaree prototypes, it brings in Natasha Wagner.
She has curves in all the right places.
The 34-year-old Los Angeles model is described by industry professionals as having "a perfect size 6" figure.
Her 5'8" frame and 28-inch waist -- which is the median between standard jean sizes 24 and 32 -- are slender but not lacking in the necessary curves, making her the perfect archetype for a wide range of different body shapes.
The industry is obsessed with Wagner and her lovely lady lumps for all those reasons and more.
She is talked about by professionals with the same excitement and admiration as baseball scouts would talk about Bo Jackson's hitting power before he left Auburn.
Black Orchid designer, Julien Jarmoune, told Vogue,
...if you fit with someone who is too curvy (tiny waist, big butt), or with someone who has a straight body (no hips), you are limiting yourself to just a certain body type. A jean that is fit on a straight body will never look good on someone who has curves. That's why Natasha comes into play perfectly. She has the best of both worlds where she's slim and she still has shape. Additionally, she has great legs that are the perfect length (she fits our standard 30-inch leg inseam flawlessly) so that our jeans will work for someone who is short or tall.
In college, Natasha was measured by a friend's modeling agency out of curiosity over her frame.
This "chance" encounter and discovery of her "average" measurements led to regular work and an eventual career.
She's made a career out of having a "perfect" butt.
She now is used by companies like Levi's, Gap, Old Navy, 7 For All Mankind, Lucky Brand, Citizens of Humanity and many more for her perfect bottom.
Her years in the business and knowledge of what goes into making a good pair of jeans led to her being regarded as being more than just a great butt, but rather a great butt with a brain.
Jennifer De Clark, senior director of women's design and merchandising at 7 For All Mankind, told Vogue,
It is amazing how she remembers the measurements of each and every jean in our collection... so much experience and knows the product so well, we value her opinion on everything from measurements and fit, to fabric choice and silhouette development.
She has "the every butt."
So there you have it, Natasha Wagner is the Wayne Gretzky of derrières.
For those keeping track at home, I've snuck two sports references into this fashion article.
Citations: The best butt in the business Meet the model whose perfect size six derriere is used by the worlds top denim brands to create the ideal fit for their jeans (Daily Mail )