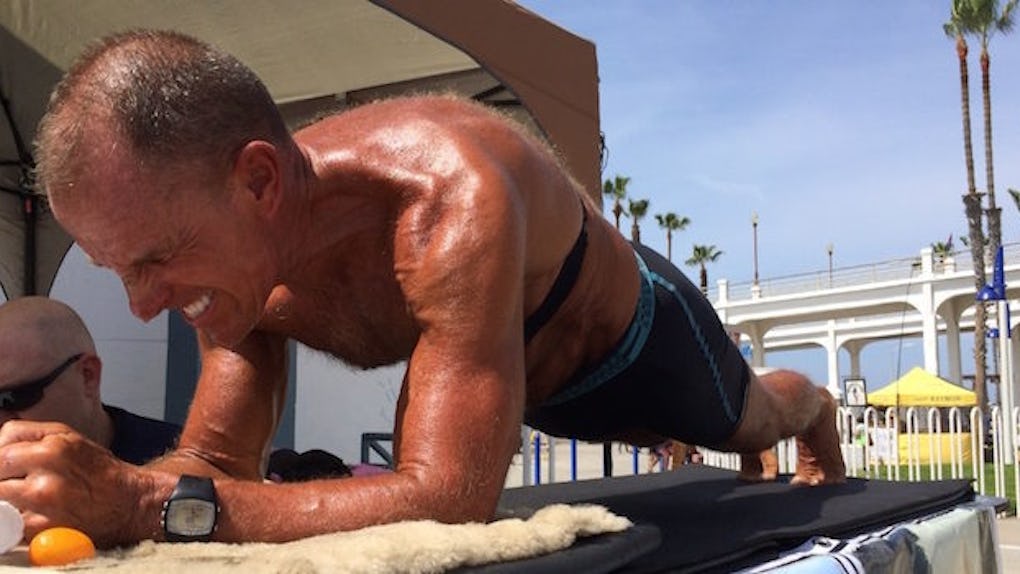 Go Fund Me
Former Marine Sets A World Record By Planking For Over 5 Hours
A 57-year-old man broke the Guinness World Record for the longest-held abdominal plank last weekend while raising money for injured servicemen.
NBC San Diego reports former Marine and retired Drug Enforcement Administration (DEA) agent George Hood held this position for five hours, 15 minutes and 15 seconds at the Junior Seau Pier Amphitheatre in Oceanside, California on Saturday.
China's Mao Weidong set the previous record last September at four hours and 26 minutes.
As a fundraiser for the Semper Fi Fund, a charity for injured members of the US military, Hood set out to beat Weidong's time. His friends even came out to support and distract him during the incredible feat.
While maintaining the excruciating position, he told NBC San Diego,
There are injured Marines that come back from the fight, who have suffered life-altering injuries and the discomfort that I feel right now pales in comparison to that which they feel. So, we raise money to help them. We tend to forget about them sometimes. This helps raise awareness and draw attention to them – and I'm about that.
Hood, who has two sons in the Marines, now works as a personal trainer and group exercise instructor.
He spent nine months training four to six hours a day for Saturday's feat, burning an estimated 2,000 calories per day.
His exercise regimen included 30 hours of planking per week and some sessions with 20 and 40-pound weights placed on his back.
Hood's longest-held plank during training was roughly 42 minutes less than Saturday's time.
His biggest goal, however, was to act as a worthy representation of the torturous physical endeavors American servicemen engage in on a regular basis.
Hood said,
Don't forget our countless Marines and service members who've fought the good fight, those who haven't come home, and those who are injured and living with that horror every single day. Don't forget about them.
Hood also reportedly set three world records for spin cycling between 2007 and 2010 and another in 1986 when he jumped rope for more than 13 hours.
Citations: Former Marine Officer Breaks World Record Plank to Benefit Semper Fi Fund (NBC San Diego)