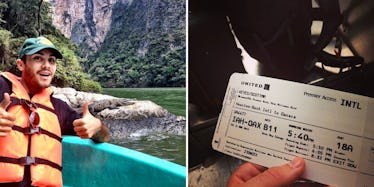 This Man Amazingly Managed To Travel The World For Next To Nothing (Photos)
Instagram
In novels and thought pieces, frequent travelers seem romantic and disorganized. Scott Keyes is not at all like that, preferring a detailed spreadsheet to a pricey, thrown-together trip.
Keyes, 28, is a journalist with a passion for seeing the world affordably. The Think Progress writer and travel guru has just embarked on a 13-country trip around the world for practically nothing.
Business Insider reports the writer decided to set out on an adventure while moving back to the United States from a yearlong residence in Oaxaca, Mexico.
In 20,000 miles and 21 flights, he'll do just that.
Keyes gleaned the 136,500 frequent flier miles from his 25 credit cards.
Rather than sinking into debt, Keyes pays assiduous attention to bonus offers.
He's even raised his credit score.
He combs lesser-known deal websites like The Flight Deal to find accidental fares priced lower than they should be.
Keyes told Business Insider the first tip to traveling efficiently is keeping an open mind.
He explained, "If your ultimate goal is to be able to find as cheap a flight as possible and go somewhere cool for not much money."
"Then starting with an open, blank slate and going wherever there's a cheap flight right now is going to be your best bet."
To date, Keyes estimates he's traveled 354,000 miles.
After this trip, he'll have been to 42 countries – all before hitting age 30.
Keyes insists travel, like anything else, is a skill you have to hone.
He's even authored two e-books on the subject.
Once you teach yourself what to look for, you begin to form a habit.
The next two months will bring an entirely new adventure Keyes' way.
His itinerary includes stops in Greece, Grenada and Finland.
He's most excited to visit the Czech Republic, however, because he plans to visit a beer spa.
If Keyes' travels interest you, he documents nearly every stop on his Instagram.
https://instagram.com/p/0NzW72MDK3/embed/
He also runs an email list alerting others on airline deals.
Spend enough time under Keyes' tutelage and you, too, could be jet-setting around the globe.
Citations: 20,000 miles, 21 planes, all flights first class... for FREE: Savvy traveller who plays the system so he NEVER has to pay to fly (Daily Mail)