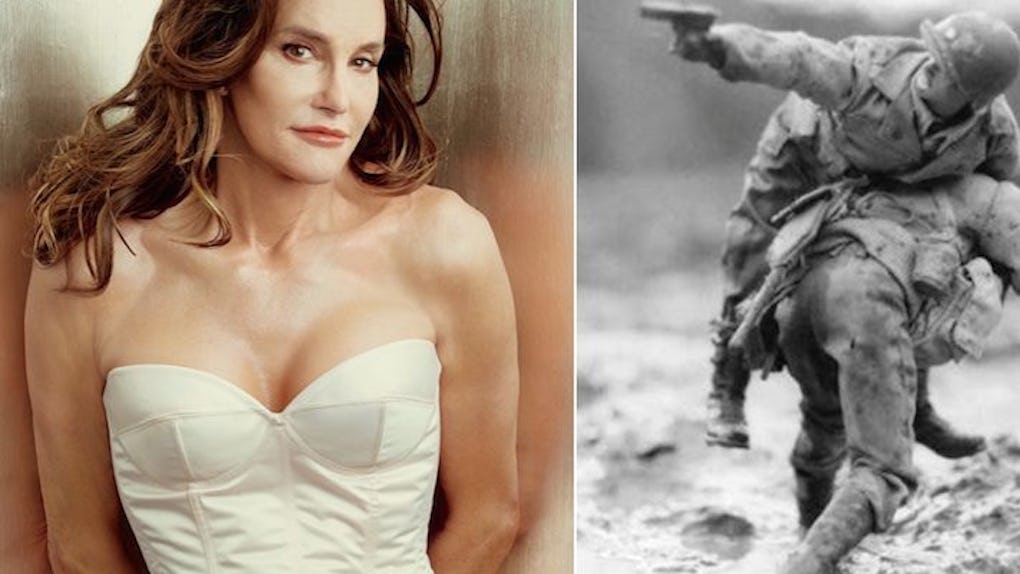 Twitter/Facebook
Anti-Caitlyn Jenner Post Teaches Beautiful Lesson After 'Ironic Twist'
Oregon's Terry Coffey didn't understand why Caitlyn Jenner was being hailed as a hero when there are servicemen (and women) risking their lives and enduring torturous injuries in battle.
On Monday, he posted a photo of what he thought were two World War II soldiers, suggesting people raise their standards for such praise.
Commenters, however, soon informed Coffey it was actually created by someone who faces obstacles very similar to Jenner's.
According to KTLA, the two soldiers turned out to be small dolls photographed by Mark Hogancamp.
Hogancamp created this photo and many others like it as a form of therapy for brain injuries and post traumatic stress disorder.
But he didn't develop these conditions while fighting overseas.
Hogancamp was brutally beaten by five men in New York 15 years ago because he was cross-dressing.
Coffey now believes that in choosing to post this specific photo, he set himself up to learn why people like Caitlyn Jenner are indeed deserving of his admiration.
Life's lessons are a lot harder to dismiss when it seems like they were truly meant to happen.
Citations: Viral Facebook Post on Caitlyn Jenner and True Bravery Takes Ironic Twist (KTLA)