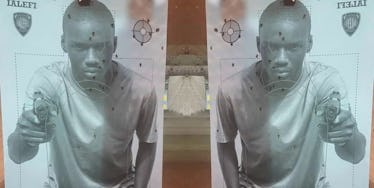 Man Claims This Gun Range Uses A Photo Of Black Teenager As The Target
A man named Javell Woods alleged when he entered the Shooters of Columbus in Columbus, Georgia he was greeted with a target of a black teenager holding a gun.
He posted a photo of the target to Facebook on July 13 with the caption,
So I go to the range yesterday and this Is the pic they had for target practice.... I ask if he had any teenage white males I could practice shooting at and he told me I was a racist.
The photo was shared over 57,000 times.
In the comments section, Woods also claims the only other available target featured "an Arab with a long bear[d] and head covered."
Another man, Robert 'Mcgee' Williams, alleged a different gun range, Mainstreet Guns & Range in Lilburn, Georgia, uses the same target.
He posted a photo of it to Facebook on July 9 -- a few days before Woods -- with the caption,
Just left the gun range n I'm disgusted. This is what they practice on.
The target apparently bears the insignia of the International Association of Law Enforcement Firearms Instructors (IALEFI).
Just learned the letters in the corner stand for International Association of Law Enforcement Firearms Instructors pic.twitter.com/hku0RmnC4u — Shaun King (@ShaunKing) July 14, 2015
In a country where young black teens are 21 times more likely to be shot and killed by police than their white peers, it's extremely disconcerting to believe both citizens and law enforcement might practice shooting using targets featuring only young black men.
Citations: Deadly Force in Black and White (ProPublica )