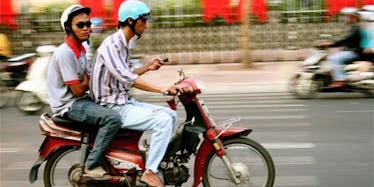 WTF? Man Breaks His Penis By Falling Off Moped While Watching Porn
Tumblr
A man reportedly suffered serious injuries to his penis when he tried to watch porn during a ride on the back of a scooter taxi.
According to TomoNews, the man known only by his last name, Yu, caught a lift from a scooter already carrying two passengers in Guangdong Province, China.
Seeing he had time to kill before arriving at his destination, Mr. Yu sought his mobile phone for some amusement.
His crotch was probably squished right into a stranger's rear end, so he figured there could be no better time for a quick adult video session.
But the driver hit a bump, sending Mr. Yu to the ground.
TomoNews suggests Mr. Yu may not have been thrown from the vehicle if one of his hands wasn't occupied with his choice of entertainment.
His penis took the brunt of the fall, possibly because of its excited state at the time.
The taxi driver rushed Mr. Yu to the hospital, and doctors told him he broke the horrifically bruised organ.
It technically isn't possible to break the penis, however, since it does not contain any bone.
The true nature of the injury instead amounts to tissue in the penis being crushed.
Mr. Yu blames the driver for his injury and is allegedly suing for about $65,000.
Citations: Man watching adult videos on his phone falls off scooter breaks penis (TomoNews)