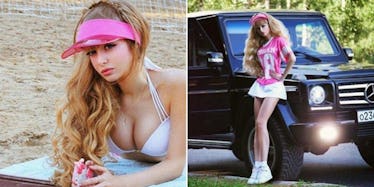 The Russian 'Human Barbie' Is A Model Whose Parents Still Dress Her (Photos)
Sales of Barbie dolls are plunging, but that doesn't seem to be slowing the competition among human Barbies.
A Moscow woman named Angelika Kenova thinks she's close to obtaining the female doll's "perfect" features, like several others before her.
Daily Mail reports Kenova was molded into doll-like shape by her parents with whom she still resides.
According to the young woman, they began dressing her like a doll early on in her life.
Kenova told press her mother picks out her clothing.
That means a range of clingy outfits and costumes.
Kenova, a self-described model, takes her body very seriously.
https://instagram.com/p/0vfwhsy9W0/embed/
Her parents pay for a personal trainer who works out with Kenova for two to three hours, five times per week.
https://instagram.com/p/0svfCDS9bx/embed/
She reportedly also has a nutritionist-planned diet.
It's all with the aim of keeping Kenova tiny and toned.
She's certainly succeeding.
Kenova says she's never had any plastic surgery.
According to her, it's all due to her hard work in the kitchen and the gym.
Kenova also claims her parents completely sheltered her from real-life experiences.
She told Daily Mail, "Growing up, my parents raised me like a princess and never let me go out, date boys or have the usual adult experiences..."
"...as a result, I am not fit for real life -- I'm like a living doll."
https://instagram.com/p/0ssh4QS9XY/embed/
Kenova also told media she's a ballet dancer and a child psychologist when not posing for photos.
She says she'd like to move out and move on, but she's afraid of upsetting her parents who've spent so much of their lives on her.
Barbie never had a dramatic backstory like this.
Citations: Human Barbie (Daily Mail)