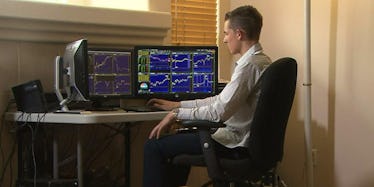 17-Year-Old High School Junior Makes $200K Managing Hedge Fund
Some people are just born to make sh*tloads of money.
Corona, California resident Jacob Wohl is definitely one of those people.
The 17-year-old owns and operates his own hedge fund, Wohl Capital Investment Group, while juggling all of the other responsibilities a normal teen has — including high school (he's a junior) and extracurriculars (he plays football and basketball).
Mind you, I don't even know what a f*cking hedge fund is. I just know people who have them make a lot more money than I do.
How does he do it?
Well, that's Wohl's $200,000 secret.
KTLA-5 News recently picked up the teen's incredible story; watch up top to hear about the "Wohl of Wall Street" in his own words.
I'll be over here regretting every life decision I've ever made.
Citations: Still in High School IE Hedge Fund Manager Earns Nickname the Wohl of Wall Street (KTLA5)