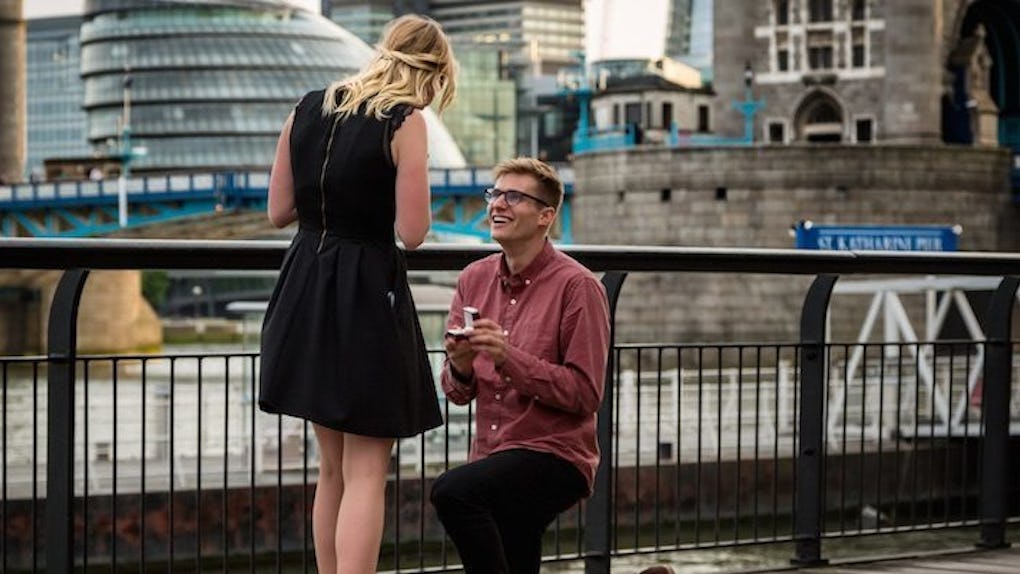 Imgur
Guy Surprises Traveling GF With The Most Romantic Proposal In London
Creative proposals seem to be at an all-time high these days.
Not too long ago, we introduced you to Tom BetGeorge, a California-based music teacher who put together a massive proposal performance so he could propose to his girlfriend.
This time, it's all about Chris Livingston, a man who posted a heartwarming proposal video to his YouTube page. While his girlfriend was traveling Europe with her sister, Chris decided to play a little joke on her.
He told her he wouldn't be able to go on the trip with them since he couldn't take off of work.
That's when he got the genius idea to pop up in London and surprise her. He surprised her with a bouquet of beautiful flowers and a gleaming smile, but he also surprised her with a truly special moment.
Chris decided to propose right then and there!
Check out the photos and video below for a closer look.
Chris Livingston surprised his girlfriend in London.
At first, she probably thought she was just getting a bouquet of flowers and a surprise appearance from Chris.
But it turns out Chris showed up to do a lot more...
He proposed!
And she said "yes!"
Now that's a happy ending.
Witness the proposal for yourself: