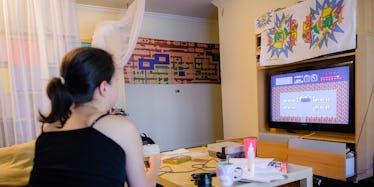 This Guy Hacked A Video Game To Create The Ultimate Marriage Proposal (Photos)
Wedding proposals are getting more and more creative every day.
Not too long ago, we introduced you to Chris Livingston, the dude who traveled all the way to London to surprise his girlfriend with a proposal after he told her he couldn't take off work to travel with her.
This time, it's all about James Dowdell's story. According to his original Imgur post, James and his girlfriend, Natalie, met six years ago, all thanks to an algorithm he wrote while working for OKCupid.
Since Natalie is a wedding photographer, James had to do some extensive brainstorming to figure out the most creative way to pop the question. Finally, a lightbulb went off!
Since they both love gaming and have game days where they get together on the couch and play their favorite video games, Dowdell decided to reprogram The Legend of Zelda for NES -- the couple's favorite.
Now this is a creative proposal.
James Dowdell wanted to propose to his girlfriend in a way they'd both remember forever.
Since they both love video games, he decided to do a little reprogramming, so the game would reveal a special message.
Dowdell used an EverDrive cartridge to get the job done.
With a bit of redesigning, he was able to create a character resembling Natalie.
The tricky and sort of exhausting part was rewriting code onto their favorite game without ruining it.
After about a month of hard work, Dowdell's efforts paid off. The reprogramming worked, and the question was popped!
He even went as far as to have this beautiful ring custom made by Takayas Custom Jewelry.
The best part? She said "yes!"