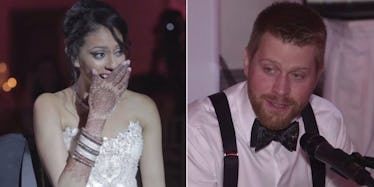 Groom Serenades Bride With Bollywood Song At Their Interfaith Wedding (Video)
On June 27, Frank Gregoire and Simran Malhotra got married in Sikh and Christian wedding ceremonies.
In order to make his bride's day extra special, Gregoire spent six weeks learning the lyrics and piano chords to "Tum Hi Ho," a song featured in the popular Bollywood movie "Aashiqui 2."
While Gregoire originally planned to write or read a poem at the ceremony, but after talking to Malhotra's mom he realized performing this song was his best option.
In an interview with Huffington Post Canada, he said,
Once I read the translation, I realized I couldn't have found anything more perfect to express my feelings to her.
Huffington Post Canada described the song, which he sang in Hindi, as "a ballad about appreciating your one true love and not wanting to face life without them."
Although the couple is originally from Canada, they met while working as doctors in Baltimore.
Malhotra commented,
All our family and friends are on cloud nine still. That moment is one I will never forget for the rest of my life.
She added,
Frank is the most fun loving guy I know. He can make anyone fall in love with him; whether it be my 10-year-old niece, my 89-year old-granddad, my best friend, one of his patients or a stranger on the street.
Even by just watching this video, you can completely see why everyone loves him!
Citations: Frank Gregoire Sings Tum Hi Ho For His Bride At Interfaith Wedding Melts Our Hearts (Huffington Post Canada)