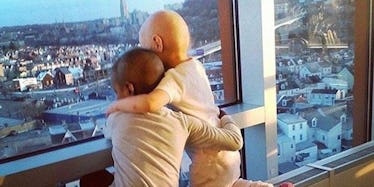 Mom Takes Heartwarming Photo Of Two Girls With Cancer Hugging Each Other
Facebook
There are few things sadder than children with cancer. It's heartbreaking. Children shouldn't have to deal with the realities of life and the pain of knowing growing old isn't guaranteed.
But children can be much stronger and braver than we expect.
This picture of two kids with cancer sharing an embrace is a beautiful reminder of their hidden strength.
The photo shows 5-year-old Maliyah Jones and Madelina DeLuca looking out the window at the Children's Hospital of Pittsburgh. They sit with their arms wrapped around each other and seem to be comforting one another.
Maliyah's mother, Tazz Jones, posted the photo on social media soon after capturing it. Since then, the photo has been shared thousands of times.
In an interview with news channel WPXI, Tazz said,
Children helping children is always the best support because they don't know. I've helped mothers get through their child being diagnosed, and they've helped me. I'm hoping the whole city has seen [the picture], people outside of the city, all over the world -- not just for Maliyah's story, but for other families going through this.
Maliyah was diagnosed with stage 4 neuroblastoma after doctors found a tumor the size of an orange in her abdomen during a routine visit. She was only 2 years old.
She is currently undergoing intensive chemotherapy at the Children's Hospital of Pittsburgh, and her mother set up a fundraising page to raise money for the medical bills. There's also a page for Madelina DeLuca; she's undergoing treatment for acute myeloid leukemia.
Citations: Mailyah Jones mother shares photo of daughter battling cancer embracing a friend (Daily Mail), Mother captures girls hugging during cancer battles in Pittsburgh (WPXI )