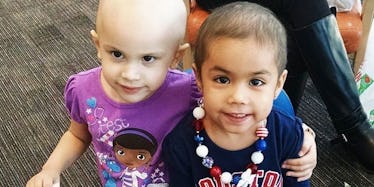 Little Girls Became Best Friends While Fighting Cancer In The Hospital (Photos)
Unlike other best friends their age, 4-year-old Ava Garcia and 3-year-old Penny Smith bonded over a common hardship.
The pair became companions after battling through cancer treatments last year, and they plan to see one another through to the end.
KTRK-TV reports the girls met after being placed in rooms next to one another at Texas Children's Hospital in the summer of 2014.
Ava was being treated for kidney cancer, and Penny struggled with skeletal muscle cancer.
According to their mothers, they became friends instantly.
Cindy Sagan, Penny's mother, told KTRK-TV, "It was like a playdate. Even though she was getting chemo, she was getting poked, it was stressful."
She continued, "It was easy going (to the hospital) knowing she was having fun."
While the girls played through their treatments, their mothers, Christina Garcia and Cindy Sagan, bonded, too.
Ava was reported to be in remission in February.
According a GiveForward donation page moderated by Sagan, Penny is currently in home hospice care.
Sagan wrote, "All we can do is lay with her and give her kisses."
Ava and Penny continue to spend time together, but Garcia told local media it's difficult to help her child understand death.
According to a Facebook update, trained hospital staff explained Penny's future passing to Ava with art activities and a special book.
Ava and Penny are friends until the end.
And their mothers have become family.
Garcia wrote in a Facebook post, "Cindy you will forever be my sister we went [through] this together... nobody else will understand."
"We became each [other's] rock."
Garcia and Sagan hope to crowdfund a portion of their girls' medical bills and, in Penny's case, an imminent funeral.
Citations: Two little girls become best friends while battling cancer (Daily Mail)