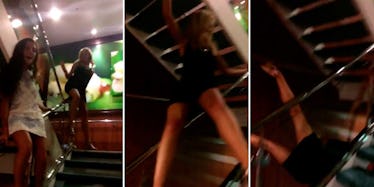 This Girl Is Actually Still Alive After An Insane Fall Off A Railing (Video)
It turns out Annie Schwenker survived her horrifying party girl fail.
Video of the 17-year-old backflipping off a rail went viral after being posted to Twitter on Saturday. The nine-second video, captured by one of Schwenker's friends, features Annie YOLOing it on the rail before plummeting into the shadowy depths of a cruise ship staircase, all while a chorus of "Annie, don't fall!" plays in the background.
CAN WE PLEASE MAKE THIS GO VIRAL #TBT #SPRINGBREAK2015 pic.twitter.com/vOS2nfrg9N — Maddie Frank (@MaddieFrankk) June 6, 2015
Annie told The Daily Dot she was sober during the incident, which kind of makes it more embarrassing. She also said she sustained a bloody lip and broken rib from the fall but still hit the dance floor right after.
After the video went viral, the Internet became flooded with jokes about the incident, and many of them have been shared on Schwenker's personal social media accounts.
@AnneSchwenker pic.twitter.com/Os9XIHrWyA — Taylor Cheeks (@TaylorrCheeks) June 7, 2015
Schwenker's mother isn't exactly a fan of the video going viral and feels it may hurt her ability to attend college because everyone will assume she was drinking before taking the plunge.
So there you have it; Annie is OK. We can go back to laughing at the video without feeling terrible because we don't know if Schwenker survived.