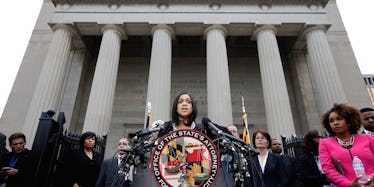 Why It's Too Early To Celebrate The Charges Against Police In Baltimore
On Friday morning, Baltimore state's attorney Marilyn Mosby declared Freddie Gray's arrest was illegal and his death was a homicide.
Consequently, the six police officers involved now all face criminal charges.
These charges range from misconduct to murder, making this one of the most significant developments since Gray's death on April 19.
On April 12, police chased down and arrested Gray simply because he made eye contact with them.
It's true he had a knife on him at the time, but as Mosby noted on Friday, it wasn't illegal for him to have this in his possession.
In essence, it appears Gray's only real crime was being a young black man who made the grave mistake of looking police officers in the eye.
In the wake of Gray's arrest and subsequent death, the city of Baltimore has been consumed by unrest.
Over the past week or so, the city's streets have witnessed both peaceful protests and destructive riots. Given the circumstances, the people there are understandably outraged.
Gray was only 25 years old. His death is a tragedy in itself, but even more than that -- it's a reflection of the abhorrent state of relations between the public and police in Baltimore.
Since 2011, the city of Baltimore has awarded $5.7 million to citizens over instances of police brutality.
Simply put, Freddie Gray's death was but one, albeit horrendous, example of Baltimore police exercising undue force.
Police in Baltimore killed more unarmed people in 2014 than 93 of the 100 largest U.S. cities. None were white. — deray mckesson (@deray) April 30, 2015
Thus, when Mosby made the unexpected announcement that all officers involved in Gray's arrest and death would be charged, she was immediately applauded and became an instant celebrity:
Marilyn Mosby is about to be a national Black hero. — Marc Lamont Hill (@marclamonthill) May 1, 2015
State attorney Marilyn Mosby has been office only about 100 days. She just became the most prominent prosecutor in the country. — Joy Reid (@JoyAnnReid) May 1, 2015
People have also taken to the streets in Baltimore to celebrate these developments:
Celebrations in #Baltimore after news that 6 police officers will face criminal charges in the death of #FreddieGray: pic.twitter.com/DaiSybGBuc — AJ+ (@ajplus) May 1, 2015
I never seen people so happy #FreddieGray in #baltimore right now pic.twitter.com/fmKdVrMyP8 — Luke Rudkowski (@Lukewearechange) May 1, 2015
This is certainly a huge step forward in terms of accountability, and it's not surprising Mosby is receiving so much praise. After all, police are rarely, if ever, charged with crime, even in instances of blatant misconduct.
We learned this particularly via the controversial cases relating to Michael Brown and Eric Garner.
In both cases, white police officers killed unarmed African-American males. And in both cases, grand juries decided not to indict the officers involved.
Moreover, even when police officers are actually charged with crimes, convictions are very rare, particularly in comparison to the general public:
Simply put, while Mosby's announcement is arguably a victory for both justice and accountability, it's a very small triumph.
History and statistics reveal the police facing criminal charges are highly unlikely to be convicted, and even less likely to face prison time.
It's also sad we live in a country in which we're given cause to celebrate over the fact that a modicum of accountability was finally upheld in a case involving police misconduct.
On rather or not today was a victory: Yes, it was. A sad, impartial one, but today was a BFD. Don't deny that, but stay vigilant. — Shaun King (@ShaunKing) May 1, 2015
"We'll see if the charges stick," Fulton said. "One of the most important eye witnesses is deceased." — Kevin Rector (@RectorSun) May 1, 2015
Yes, the charges are necessary and good. These charges are not yet justice, they are the beginning of accountability. #FreddieGray — deray mckesson (@deray) May 1, 2015
With that said, even if all six officers involved are convicted and imprisoned, it will take much more to reform America's broken criminal justice system.
What happened to Freddie Gray was not an isolated incident, it was a product of systemic racism, discrimination and violence.
According to a ProPublica analysis of federal data on police shootings, young black males are 21 times more likely to be shot and killed by police than their white peers.
The United States has 5 percent of the world's population, yet 25 percent of the world's prisoners.
Indeed, a country that habitually pats itself on the back for its "freedoms" has the highest incarceration rate in the world.
Mass incarceration is the benchmark of America's approach to crime, and it disproportionately impacts minorities.
According to the NAACP, blacks are imprisoned at nearly six times the rate of whites, and they make up one million of the 2.3 million individuals currently incarcerated in America.
In other words, slavery and Jim Crow now exist through imprisonment.
If we really want justice for Freddie Gray, Eric Garner, Michael Brown, Trayvon Martin, Tamir Rice and so many others, we have to reform this broken system, acknowledge the existence of white privilege, embrace community policing and body cameras and end the futile endeavor known as the War on Drugs.
In turn, we would finally be given cause to truly celebrate.
Citations: Looking While Black (New Republic ), Undue Force (Baltimore Sun ), Allegations Of Police Misconduct Rarely Result In Charges (FiveThirtyEight ), Garner Brown Decisions Spark Calls for Grand Jury Reform (US News), CRIMINAL JUSTICE FACT SHEET (NAACP), The Prison Crisis (ACLU)