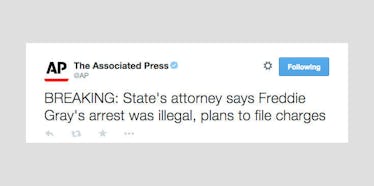 Baltimore State's Attorney Says The Arrest Of Freddie Gray Was Illegal
Twitter
On Friday morning, Baltimore State's Attorney Marilyn Mosby declared the controversial arrest of Freddie Gray was illegal, the New York Times reports.
Accordingly, charges will be filed against all six officers involved.
Here are the criminal charges against each officer in the murder of #FreddieGray pic.twitter.com/L8xBeT7edk — Shaun King (@ShaunKing) May 1, 2015
Additionally, Gray's death has been ruled a homicide.
Mosby also contended the knife Gray had in his position, which has been cited as the cause of arrest, was not illegal.
This news comes just a day after it was reported police had finished an investigation regarding Gray's arrest. The results of this investigation were given to Mosby, which led to this important announcement this morning.
Citations: Prosecutor Cites Probable Cause for Manslaughter Charges in Freddie Gray Case (NYT), Freddie Grays Death Ruled a Homicide (ABC), Police officers charged in Freddie Gray death (CNN)