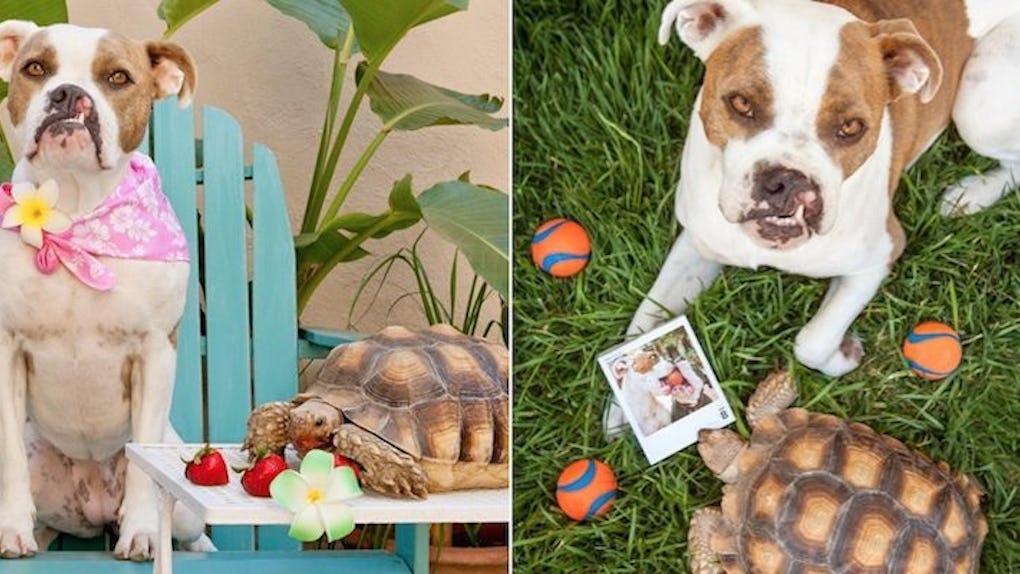 Instagram
This Insanely Cute Dog And Tortoise BFF Duo Is Everything Right Now (Photos)
A dog is man's best friend.
But, how about a tortoise's?
That's the case with Puka and Rocket Larry, an inseparable dog-reptile best friend duo.
The pup, Puka, was rescued from a homeless man by owner Christine Hilberg.
And Hilberg bought Rocket Larry from a reptile hoarder on Craigslist.
The two have been best pals since entering Hilberg's critter-filled home, and they make frequent appearances on the photography retoucher's popular Instagram page.
Now, Hilberg uses her pets' star statuses to advocate animal rights.
She explained,
I use my Instagram account to share the perks of having a strong relationship with an animal, to  help further the cause for rescuing animals and spread awareness for animal adoption.
And if these adorable mugs don't make you want to adopt a pet (or five), nothing will.
Check 'em out below.
Here is 4-year-old Puka. She's a mixed breed with a cleft lip.
And here's Rocket Larry, a rare African sulcata tortoise.
The latter is named after Larry David because, as Hilberg explains,
Both are stubborn, bald and love to improvise.
Hilberg, who lives in Southern California with her boyfriend, has always been an animal lover.
Hilberg said, "Growing up, [her] family adopted all of [its] animals from friends, shelters or off the streets."
She added, "Shelters all over the country are flooded with animals needing a second chance."
Hilberg volunteers at NKLA, an animal adoption center in Los Angeles.
Check out her Instagram account for more cute pics and animal adoption info.
Citations: Meet Puka and Rocket Larry the Unlikely Dog Tortoise Duo (Mashable)