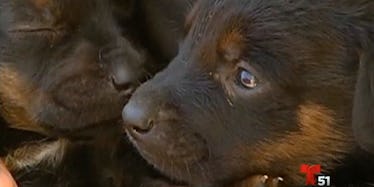 Dog Saves Her Pups By Digging A Hole To Hide Them During A Fire
Manuel Silverio/Telemundo
Using a little innovative thinking, a Chilean dog with a motherly sixth sense saved the lives of her puppies.
As a wildfire blazed near Valparaíso, Chile, locals reported seeing a black dog leading a litter of young puppies deeper into the forest.
According to Daily Mail, the canine mother began digging a hole under a metal container. She stashed her puppies one by one, ensuring they'd be safe from the flames.
When the area was safe to enter, volunteers began searching for the dogs. They found the litter of nine buried under a makeshift metal shield, just as residents described.
Telemundo 47 reports the puppies and their mother are perfectly healthy.
Many have come forward looking to adopt the dog, who's being called Negita, and her babies.
According to the BBC, local officials believe the massive forest fire began Friday at an illegal landfill and was pushed along by strong winds.
The mother dog knew exactly how to protect her young.
https://www.youtube.com/watch?v=85PmgsFjcw8
Citations: Proof that a mothers love knows no bounds: Dog saves her litter of puppies from a forest fire by digging a hole for them to hide in as flames lick around them in Chile (Daily Mail )